Charity strives to bridge the gap between food waste and hunger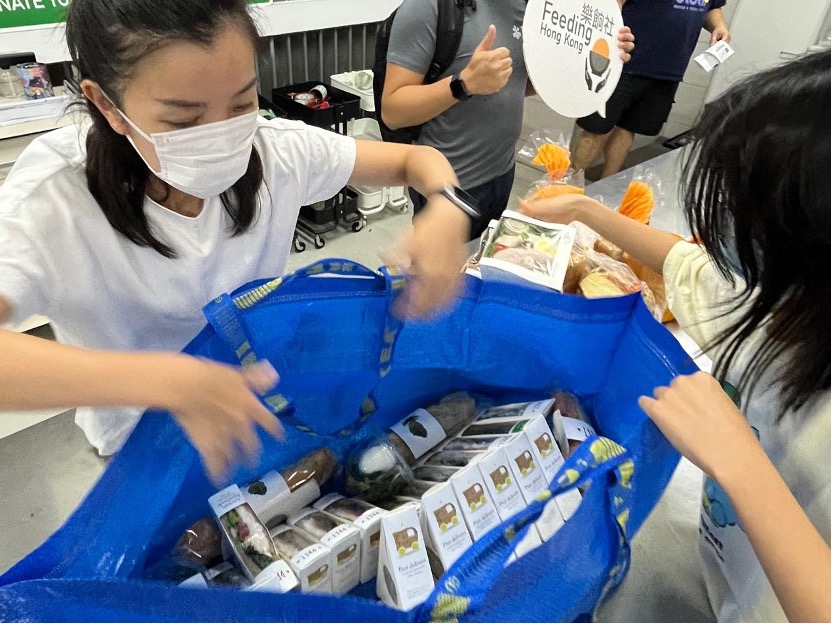 An employee of Feeding Hong Kong counts and verifies food items collected by volunteers from bakeries. Bakery staff often provide a receipt for the amount of bread to prevent volunteers from falsifying the numbers and make it easier for the charity staff to count. (Photo: Zheng Yuchen)
On the seventh floor of a building in Yau Tong Industrial City, the office and warehouse of a food bank are bustling with activity. It is 9 am on a typical Friday, and already five employees are busy preparing work assignments. From nearby, chatter and the grunt of steel hand trolly wheels rise and fall as a group of eight other employees and volunteers take food off shelves and from freezers in the warehouse.
 The food, including bread, sandwiches, noodles, and milk, will be delivered to a number of other districts by 10 am In the 3-meter-high warehouse, the food is all orderly stacked, in boxes, on the floor or on five rows of shelves, all organized according to supplier and type of products. To the right stands a freezer and a refrigerator closet for perishable items. Workers wheel food from various locations to a patchwork table in the front of the room minutes before a delivery assistant arrives, who voluntarily worked as a driver to help coordinate the day's food delivery.
 "What makes us different from other food banks is that we don't have our own kitchen, so we don't cook food," said Fanny Lee, Community Engagement Director of Feeding Hong Kong. Instead, she explained, this B2B organization gathered surplus food from companies in the city and then distributed it to local charities.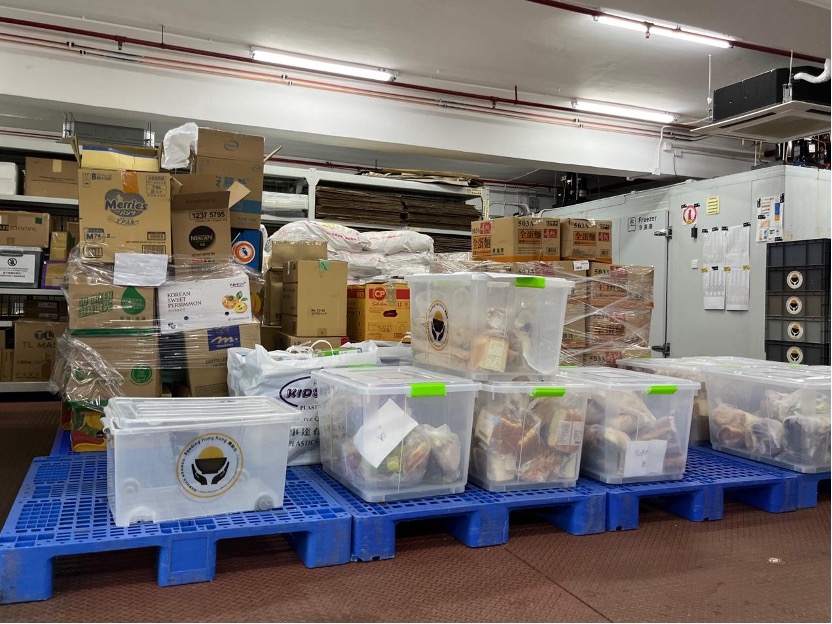 The bread collected by volunteers is laid out in boxes on the floor. In the back are corporate donations, some on the floor and some on the shelves. On the right stands a freezer, a refrigerator closet and airplane snacks donated by the airport.
Feeding Hong Kong is the city's first food bank network set up with a mission to reduce food waste and help feed people in need. The organization's founder Gabrielle Kirstein got the idea for the charity one night in 2009 when she happened to see fresh and still edible bread being sent to the trash. She rescued the food and donated it to a crisis shelter.
In response to the growing awareness of the amount of food being wasted, Kirstein spent two years connecting bakeries with local charities and resigned from her consultancy work to finish launching the organization in 2011.
More than a dozen years later, the charity collaborated with more than 400 active food manufacturers, companies and retailers. Its number of charity partners increased to over 150 this year, involving a range of organizations from those working with the elderly and low-income families to those helping the homeless and ethnic minorities.
But the impressive year-on-year expansion of the food network also offers a concerning glimpse into the disconnect between food waste and food needs in Hong Kong. According to the Environmental Protection Department, some 3,255 tonnes of food waste was dumped in landfills every day in 2020. Such refuse was the largest category of municipal solid waste, accounting for about 30 percent of the total waste stream.
During the same year, according to data from the Census and Statistics Department, low-income families were spending roughly 30 percent of their incomes on food every month. Estimated at HK$3,000, the food expenditure was the largest monthly spending item for such families.
Lee said that when Feeding Hong Kong was first established 11 years ago, the concept of a food bank had not taken root in the city.
"I think it's a challenge to promote this concept to food manufacturers to make them understand the significance of food donation services," said Lee.
"Lots of items from food manufacturers may have lost business value," she explained. "In some cases, there are packaging errors, overproduction, and food close to an expiration date or unsold. But they are still edible."
Each day of the week, drivers head out from the charity to go to different districts. The system is more cost-effective, allowing the organization to consolidate food in its warehouse. There it is checked for any quality issues, classified and sorted, and then recorded in a computer system. Labels are also affixed on food packaging to facilitate management.
"On World Food Day in October, we collected six tons of food," Lee said, noting that the daily volume of collections can vary substantially. "The charity sometimes encountered urgent situations, such as when a company suddenly called to offer excess food for collection. Our response is passively adding jobs to accommodate the donations."
In addition to drivers, volunteers help collect food.
Zheng Yuchen, a student from City University of Hong Kong, described collecting unsold bread at Pret, a cafe in the city's Central District, just as it was about to close.
"I collected 52 pieces of bread in total, weighing about 20 pounds," said Zheng.
Another volunteer named Grace said she worked as a human resources officer for a local company. Asking to be only identified by her first name to protect her privacy, Grace said she had volunteered at the food bank about five times, including two times to organize group activities for her company.
"Volunteers usually receive an email from Feeding Hong Kong on the next day to inform them which charities have got the bread," said Grace, recalling the beneficiaries were often social centers for the elderly and homeless.
The situation of food recipients is continuously changing these years. Lee said she had noticed those in need were getting younger. 
"I would say that the economic benefits haven't trickled down to ordinary citizens, especially grassroots people, whose lives are very precarious," said Lee.
According to the Social Welfare Department, the number of registered homeless people in the city jumped from 595 to 1,564 in the past decade. Moreover, during the pandemic, the untraceable number, resulting from NGOs losing contact with them, significantly rose because more people experienced employment or cross-border issues.
"I observed that there has been a polarization between food waste and food demand problems under the pandemic," Lee added.
"Since the outbreak of COVID-19, the amount of donated food we got decreased because of the economic situation, but the demand from food recipients was growing," Lee said. "Our response is to use the money donated by corporations to buy some food. But we are still balancing the proportion of food purchased and food collected. That's a challenge for us."
The pandemic has put pressure on all aspects of the food network's operations, but Feeding Hong Kong has managed to keep focusing on its goal of bridging the gap between hunger and food waste.
Lee said that the food bank's charities director, Connie Shuen, once told her sometimes donations provided them with a chance to understand the people they are helping.
"Food can serve as an intermediary," she said, offering an example of when the charity gave bags of rice to elderly people. Lee said workers could understand more about their emotional, living, and medical problems through the rice.
Working in NGOs for over 15 years, Lee thought that the biggest task of charities was to shut themselves down. "The gap (between food waste and demand) itself is very sarcastic. No more food waste issues in Hong Kong, and our charity doesn't need food collection and delivery, which is the best," she said with a smile.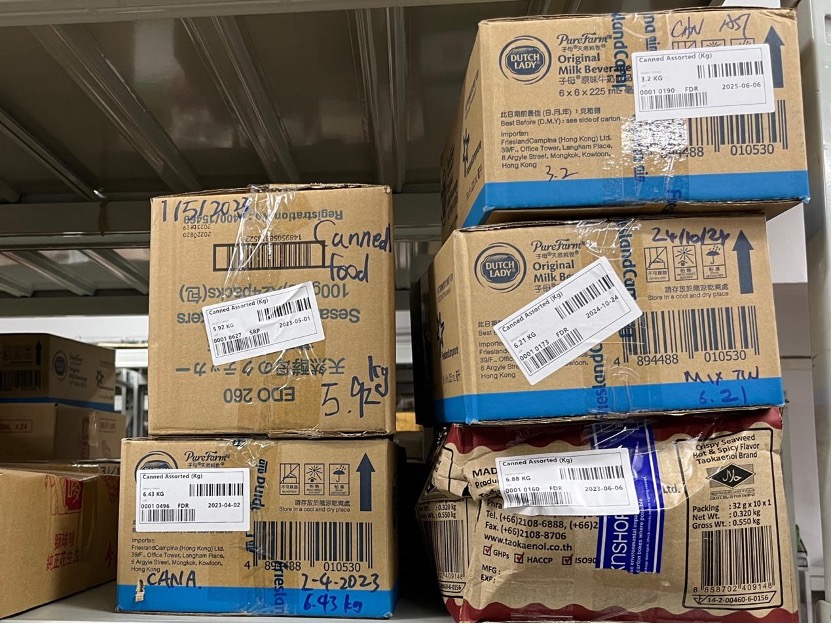 Canned food is placed in boxes on the second row of shelves. Each box has a label with a barcode, weight, and the expiration date of the food.

I think it's a challenge to promote this concept to food manufacturers to make them understand the significance of food donation services.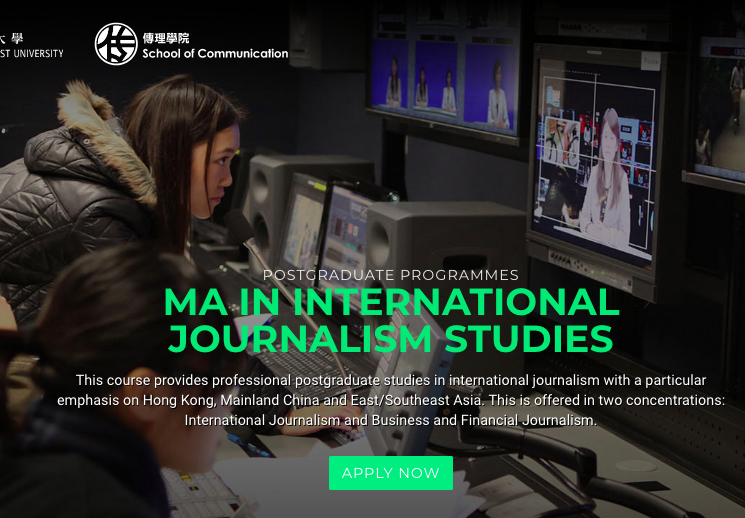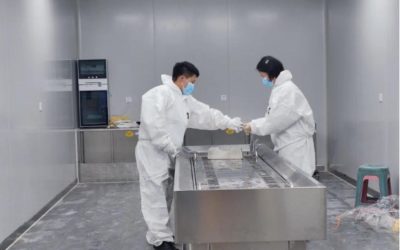 A young mortician in China provides "dignity for the dead and comfort to the living." By Yuan Xiaomai December 2022 Wu Cha (left) cleans a workbench with her colleague in Gucheng, Hubei province, July 2022. (Photo: Wu Cha) Wu Cha recalls being deeply shaken the first...
read more