Little Wars: a day inside the Hong Kong Society of Wargamers
For 40 years, the club has been attracting history buffs and internationally-ranked players who re-enact historical battles in miniature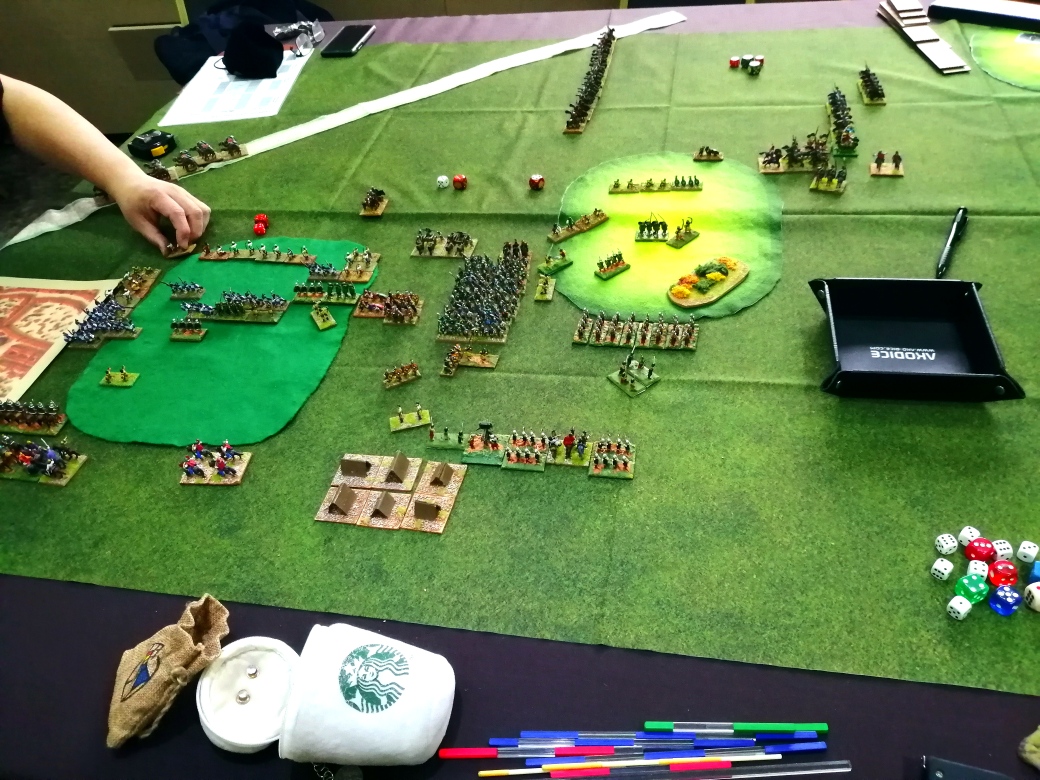 Inside a conference room in Kowloon Bay, three men are at war.
It's a balmy Saturday afternoon, the kind of day most would spend outside were it not for the coronavirus that has swept over Hong Kong. Still, some are not deterred from social gatherings.  Light pours in through the windows, illuminating the big beige-walled room. A rectangular piece of green felt dotted with colorful miniature soldiers covers a massive table: the battlefield. 
Joon Nak Choi (who goes by JC), a middle-aged AI developer with a PhD from Stanford, is commanding an army of Persians. Lawrence Ho, a retired bank manager, acts as his advisor. It is not JC's first battle; he has crushed opponents before, both local and foreign. But Andrew Lam, a lawyer and one of the Hong Kong Society of Wargamers' best strategists, won't be easy to defeat.
The game terrain is uneven, affecting the troops' visibility. The hill–an oval piece of paper–sits in the middle of the warfield. The forest and the marsh–to the west and east, respectively– are rectangular pieces of green felt. Lam rolls the dice, six, and takes a jackstraw and a ruler, to measure the distance his troops can cross. His good roll means he has six commands this turn. He splits up his massive Greek army and sends a troop towards the marsh–towards an ambush.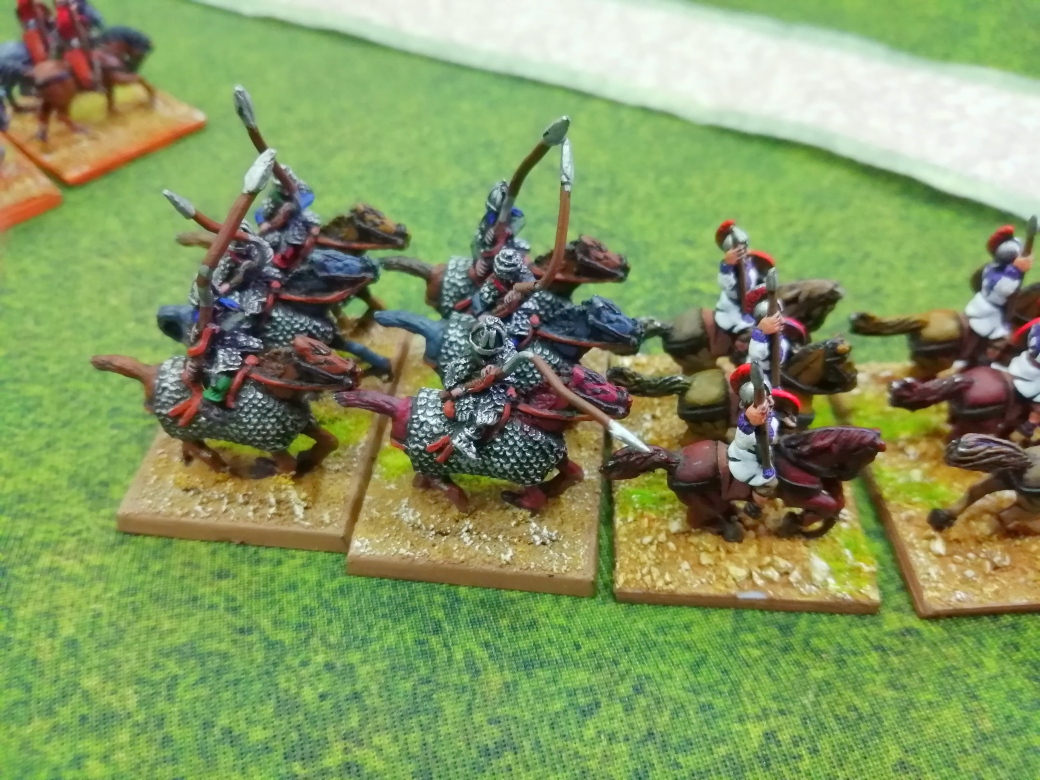 Cavalry pieces sit on the felt battleground. Each type of troop has a different assigned value.
The Hong Kong Society of Wargamers was established in 1980. The seven founding members would meet to play in each other's flats and in police messes–many of them were cops. Then, the group started to attract more and more members, the bulk British Army officers. Nowadays, most are well-educated, middle-aged Hong Kongers. They meet three times a month in three different locations, including Kowloon Bay International Trade & Exhibition Centre, where the tables "are just the perfect size for the game boards," according to JC (experts agree that the ideal playing area should be at least 1.8 x 1.2 m: the size of a Ping-Pong table).
The focus of the society is on miniature wargaming with armies averaging 50 to 100 figurines. One figurine represents tens to hundreds of troops and costs around HK$50 to HK$100. Ideally, the miniatures should be 15 mm, although it's possible to play with 28 mm ones. The smaller size of soldiers makes it easier to visualize the sheer scale of the battle in your mind's eye: one cavalry base represents the area of half a football field. Terrains are green felt rectangles, almost as big as each table. While some pieces can be made by players themselves–an oval piece of cardboard as a hill, a round piece of felt as a forest–others, such as home bases, roads and period decorations, should be bought.
Nowadays, most players buy their equipment online. Each battle has strong roots in history, with the terrain and the military technology approximating real conditions for the chosen time period (3000 BC- 1500 AD). The Crusades and anything involving Romans are a popular choice.
The only rules the society follows is "De Bellis Magistrorum Militum" by Phil Baker, complemented by a four-volume Army list. DBMM, which means "For the Wars of the Masters of Soldiers" is used by historical miniature wargamers all over the world, though it is not the only rulebook. 
To win a DBMM game, a player needs to get as many "Army points" as possible out of 400. Points are gained by destroying the opponent's troops. Each type of troop has a different assigned value: killing foot soldiers is less valuable than destroying cavalry, and the cavalry will give you fewer points than destroying artillery.
Players start with their armies grouped near their home bases on opposite sides of the game board. Once the opposing side's troops are within shooting distance (determined by the rulebook, a ruler in centimeters and a jackstraw), a combat roll of the dice determines the quality of the attack. Are the troops successful in damaging the enemy army, or is the attack ineffective, leaving them open to retaliation? It's up to chance.
A battle can last for hours, but time is limited in official tournaments, which affect international rankings. One of today's absentees, Herbert Wong, was top 50 in the world in the January 2020 British Historical Games Society ranking. Lam, who is playing today, is also on the "world's best" list of 121 players.
The Hong Kong Society of Wargamers currently has 55 members, with 10 present today. The spacious conference room could easily fit everyone if needed. Four playing tables stand by the windows, a black tablecloth on each. In the left corner, Peter Hunt, a retired British police officer and one of the society's founding members, takes a game board out of a box. Today, he's not wargaming, but playing a strategy game set during the British occupation of Afghanistan. Leaning over the rightmost table are Ho, Lam and JC. Closer to the door, Brits Neil Burnett and Tony Matthews are arranging javelin and elephant troops for a Hannibal-era battle. And in the center of the room, Sam Kwan and James Cheung are busy preparing for a tournament.
Cheung, a short man with salt-and-pepper hair, leans over the table. A timer, like one used for chess, is sitting at the edge of the game board. Three and a half hours is the maximum length of a tournament game. Since it's almost impossible to finish a full game in such a short time, the two are trying out new strategies to get the highest amount of points in the timespan. Suddenly, Cheung looks at the timer and frowns. They had been playing for a good 40 minutes, but the digital display shows he still has a full 1 hour 45 minutes left. Kwan's time, on the other hand, is trickling away. "We forgot to stop your clock," Cheung says.
The two are training for the Italian DBMM Team Championship in Milan in mid-March. The event is annual, but this year, there are dark clouds gathering over it. The Italians are biding their time to see how the situation with the epidemic evolves. "It might get cancelled. We're still waiting for updates," Kwan says. After making his move, he clicks the timer.
 The society is sending two teams to compete. One, called Wind, Wood, Fire and Mountain, is composed of Andrew Lam, Albert Leung, Sam Kwan and Kenneth Chan. The other, The Yellow Dragons, who won third place in 2014, has James Cheung, Mark Gibson and Herbert Wong. The fourth person in the second team is a secret. "We're not supposed to tell yet," JC says.
 The players are in for two full days of games. Each team member will compete in one of the four "pools":
 Pool 1: Age of chariots: from 3000 BC to 501 BC
Pool 2: Classical Age: from 500 BC to 475 AD
Pool 3: Dark Age: from 476 AD to 1070 AD
Pool 4: Medieval Age: 1071 AD to 1515mAD
 The main prize? "Bragging rights," says Kwan.
 He watches as Cheung leans over the game area with a ruler. Cheung's elephants could wreak havoc on Kwan's foot soldiers before they even engage in combat. That's because of a game feature called morale– the sight of the better equipped enemy troops would be terrifying for the soldiers, throwing them off their game and making them an easier target. Each troop type has a natural enemy in the DBMM ecosystem.
 Tournaments are an opportunity to meet players from all over the world. Over the years, the society members have travelled to Thailand, Italy, Taiwan and Australia. They are especially fond of the Thais–Kwan's current terrain piece was a gift from an opponent he defeated at one of the tournaments there
 To take part in a tournament, each participant has to submit an army list, detailing all the  elements he will use, cost of each by type and the geography and climate of the terrain piece he's planning to use (windiness is especially important when playing with archers). Players bring their own terrain pieces, which "must be to an acceptable standard," meaning no crooked mountains or bizarrely shaped forests.
 Kwan concludes his turn and reaches for the timer. This time, it's Cheung's clock that's been on countdown. Kwan looks up and says, "Oops. We forgot again."
Wargaming seems to be growing in popularity. Attendance at major trade shows has increased, as have the number of gaming stores over the last couple of years, according to the British Historical Wargames Society.  Games Workshop — a tabletop game company most famous for the game Warhammer—reported an increase in sales to more than 250 million pounds in 2019. The company was hailed by Investor Chronicles as "an outstanding share" that "has delivered sensational returns to its investors". "There's plenty of anecdotal evidence that tabletop gaming as a whole is gaining popularity," said a spokesman for BHWS.
 Fantasy and sci-fi are the most popular genres by far, much more so than historical games, said BHWS. For history, WWII is the most popular era to recreate. "Recent years have seen a number of publishers produce high quality, unique ranges of figures to tie in with widely distributed WWII rulesets, such as Bolt Action and Flames of War," BHWS says
But despite the increase in popularity, the Hong Kong society finds it difficult to attract fresh blood. Most new society members are either relatives of current ones, often sons of members, or recruited by word of mouth. With an entrance fee of HK$80 plus a yearly membership fee of HK$300 and the cost of equipment, costs can add up. "It's an expanding but graying hobby," says Hunt. "Young people prefer to play strategy games online."
"My earliest memory is looking through a box of Crusader and Saracen miniatures. They were my father's. I was 18-months old," says Burnett, a middle-aged police officer.
"You remember something from when you were eighteen months old?" Matthews, a balding veterinary surgeon, says, sounding skeptical.
Burnett smiles and nods. "I would have battles on the living room floor. And every birthday and Christmas, I would ask for toy soldiers as a gift."
Burnett is hoping to start teaching the DBMM basics to his teenage son (though not his daughter). Will he encourage him to join the society? "One day," Burnett says, smiling.
Experienced players don't go easy on young newcomers. Many find the thought of losing against someone so much younger unbearable. Wong wrote excitedly on the society's blog about his match at a tournament in 2012: "My last game was vs Later Swiss, my opponent a 14-year-old boy and there was no excuse for me not to win!! (…) Finally I managed to break all 3 of his commands before the game end and I slaughtered a boy!! 23: 2 in my favour."
While wargaming is competitive, in the society there is no push to "be the best," members say. JC stresses that the group is very friendly. "People here take care of each other," he says.
 According to Chairman Jeff Herbert, the society attracts history buffs who just want to have fun. "Hong Kongers have enough stress in their lives," he says. "They come here to unwind."
The members are diverse when it comes to their professions: in addition to the police officers, there's a teacher, a vet, a banker, a real estate agent. But, where are all the women?
"We've had some female players before. Not many. One of them only came here to keep an eye on her boyfriend. Another was a local girl, before 1997. Maybe she wanted to find a foreign boyfriend?" Ho's eyes narrow when he smiles. "But in general, women don't join because war gaming is too complex for them."
"Did you really just say that?" Burnett calls out from another table.
Ho shrugs and presses on. "Most women have more important things to do than war gaming. It's just not their type of hobby," he said.
"We have many female players," says Terry Ting, a member of the Warhammer wargaming community and a shop assistant at Fun Atelier. "Three."
The Fun Atelier is widely hailed as THE place to be for tabletop wargamers. Located in Kwun Tong, it's one of the few wargaming shops in Hong Kong. The shop is not visible from the streets, and once at the right address, you still need to cross a parking lot and take an industrial elevator to the fifth floor. The shop itself is exactly that–industrial. Grey walls, bright overhead lights, a big empty space in the center around the wargaming tables. It's very chilly, the hum of the fans overhead the only sound breaking the silence. Four middle-aged men are leaning over one of the wargaming tables, testing the merchandise. They nod repeatedly and begin discussing something softly in Cantonese.
The shelves are chock-full of merchandise, but the brightly painted figurines couldn't be more different from the society's armies. There's a dragon-Cerberus hybrid with deep crimson scales (Hounds of Vengeance, says the name on the packaging). A curious mix of a skeleton, worm and a bishop: Supreme Lord of the Undead. Prices start at HK$300.
According to Ting, the Hong Kong Warhammer community is much bigger than the 55-member society. Still, the number of players is stagnant, and it's unusual to see new faces appear at the shop's Warhammer tournaments.
Further inside are rows of small lockers, each the size of a chessboard. Some are open, revealing armies of figurines inside. The only historical wargaming items are stashed in the corner by the till. They are the Rubicon Models. Rubicon is a designer and manufacturer of 28 mm WWII miniatures who prides itself on the "easy assembly" of its models. Fun Atelier is its only distribution partner in Hong Kong.
Ting gestures to the Rubicon models and picks up one of the boxes: The Japdpanther tank, 98 elements. According to Ting, the models need to be assembled and some historical players prefer not to do it. "I think they usually buy online," he said. "I haven't seen a DBMM player here in a long time."
At KITEC, lunch is served. The staff come in with plates of cheese sandwiches and cans of everyone's drink of choice: beer.
Lam takes a small plastic triangle to measure whether he's got the range to deal damage to JC's soldiers. He doesn't. Instead, he commands his troop to cross the marsh, but as he lifts the first figurine…
"Ambush!" JC exclaims, triumphant.
"Don't tell him before he makes the move," Ho scolds him.
"I haven't put it down yet," Lam says. Sure enough, he's holding the figurine in the air. "I can still take it back."
According to Ho, it takes around five years, and a good mentor, to understand the intricacies of DBMM, the holy book of the society. To say that the rulebook is all-encompassing is an understatement. It describes everything from the possible movements of the troops to the makeup of the armies. This is just the right moment to consult it.
"It's a masterpiece," Ho says, opening a copy with reverence. "Baker's a genius."
As Ho and JC ponder the legitimacy of his move, Lam picks up an unpainted figurine and a needle-thin brush. Painting the figures is the most divisive part of the hobby. Some, like Mathews, buy ready-painted armies online. Others, like Hunt, find it a great way to let off some steam after a busy day. "There's nothing creative about it," Hunt said. "It's paint-by-the-numbers– very relaxing." Still, all the pros do it. It's a matter of prestige. The tournament guidelines state that "umpires will have the discretion to remove unsightly or unrepresentative items."
Lam's strokes are quick and precise. Within seconds, he coats the figurine with two layers of paint. Then, he moves on to highlighting. The brush flashes in the air like a sword and suddenly the figurine is not a sad lump of grey anymore–it's a horse at full gallop. In Lam's hands, it is art.
Meanwhile, Ho and JC reach the verdict: Lam is right. He takes his move back and the ambush fails, leaving Ho and JC's left flank outnumbered and exposed. They'll keep playing, but Ho can tell this mistake will cost them the victory.
It's getting late. As I fill a plastic cup with water from the dispenser at the back of the room, I check my cell phone and notice an email from Jeff Herbert–a follow-up to our discussion earlier this week. I scan through the message: "Most misconceptions about us come from people without hobbies."
Outside, the sun has set. The games are over; the players are going home, back to their wives and children. Lam takes the bag of unpainted figurines and stuffs it into his backpack.
"Some will think it childish to play with toy soldiers, others that we are war mongers and kin to firearm associations," Herbert wrote in his email.
Surprisingly, JC and Ho didn't lose–their game ended in a draw. Ho's not happy about that.
"Chinese players take a lot of precautionary measures. It's like martial arts. Jumping around like a monkey. It's useless," Ho said as he packs the game terrain. "Foreigners are more direct. They treat it like boxing. Quick, one-hit strikes."
"Like all families, we can have little tiffs but at the end of the day everybody will pitch in and help a fellow member if they can, within and outside of the club," Herbert continued.
Lam was too defensive, Ho says. For the tournament, he will have to be more direct, and switch to "attrition mode". Luckily, there is still time. Ho has his own gaming room, and Lam, Kwan and other tournament participants are coming over next week to practice. Hunt might pop in, too.
As the players pack up their belongings and begin to pour out of the room, a chorus of see-you- soon fills the air.
"It is really about getting together with a nice group of people and sitting around a table and enjoying oneself," Herbert wrote.
Now, only Hunt and two others sit at the far end of the room, nursing beers. Today, they're not in a hurry. For Hunt, this hobby and community are something you can't get bored of, even after 40 years. He takes a sip of his beer, smiles and says, "Wargaming takes time and resources, but it's a lifetime thing."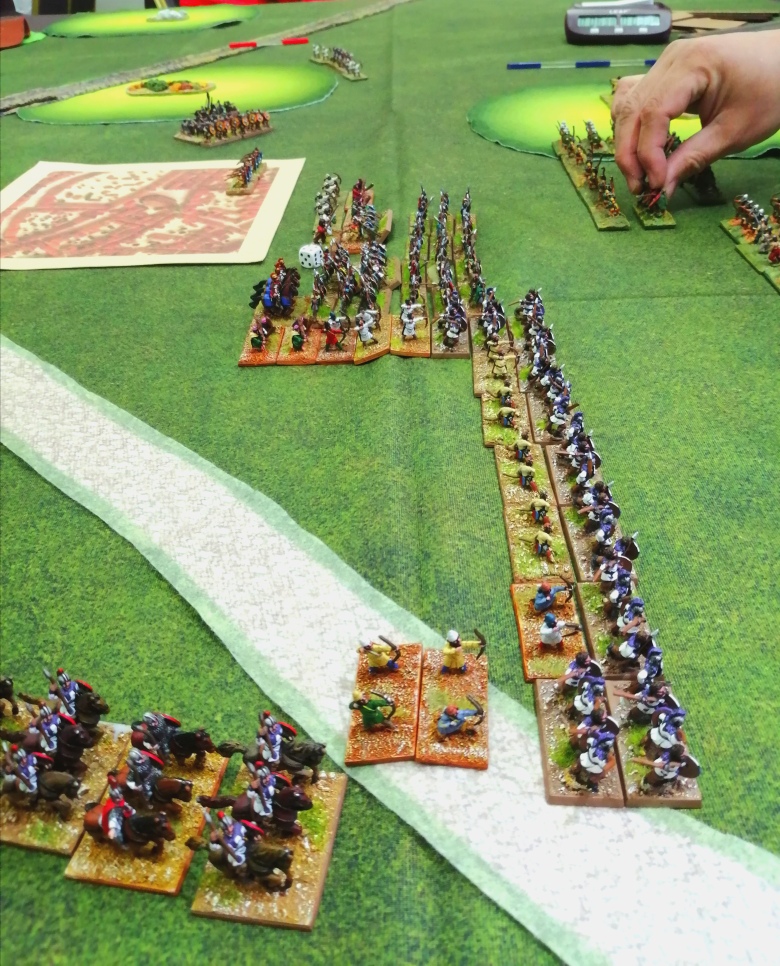 Players bring their own terrain pieces, placed on green felt, to represent topographical elements, such as forests, mountains, roads and marsh.

It is really about getting together with a nice group of people and sitting around a table and enjoying oneself.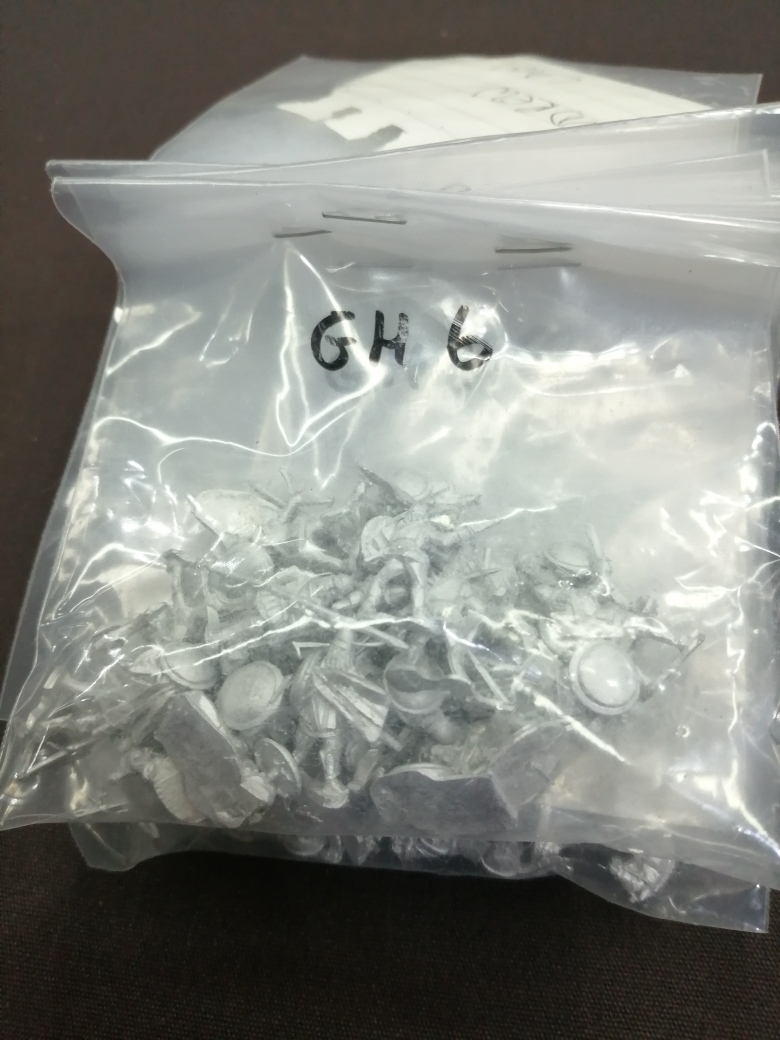 Wargame figurines wait to be painted. Many wargamers like to paint their own while others prefer to buy them ready to go.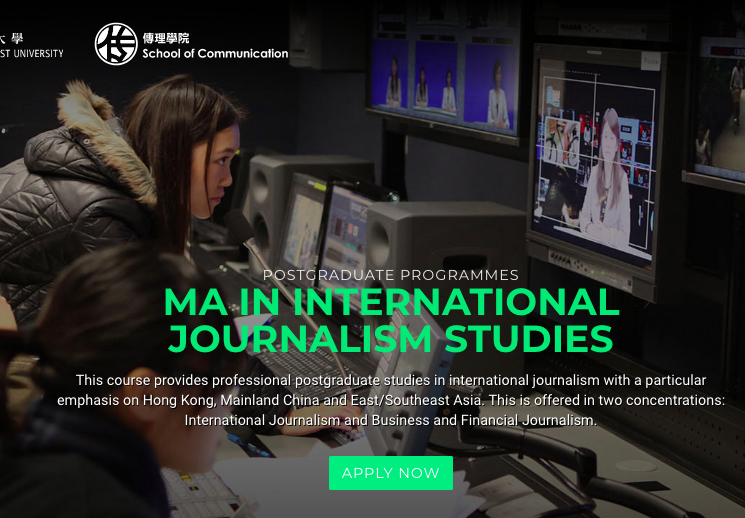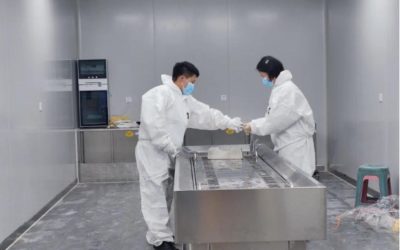 A young mortician in China provides "dignity for the dead and comfort to the living." By Yuan Xiaomai December 2022 Wu Cha (left) cleans a workbench with her colleague in Gucheng, Hubei province, July 2022. (Photo: Wu Cha) Wu Cha recalls being deeply shaken the first...
read more