Mainland students agonize over coming to Hong Kong universities
Uncertainty over social unrest, coronavirus in Hong Kong bring mixed feelings to China's mainland students accepted to city's post-graduate programs
It should be a hard-won triumph worth celebrating. But John Yin is not in the mood.
The 25-year-old secured an offer from the City University of Hong Kong's master's program in marketing management. That came after he failed an entrance exam to a similar university program in the Chinese mainland.
However, with the start of the semester just four months away, Yin, who is in Chengdu, remains undecided over whether he will come to Hong Kong.
"I am worried about various uncertainties in Hong Kong, such as the pandemic and social unrest," he said.
Hong Kong was gripped by waves of violent anti-government protests from June 2019 to the first days of 2020, which have since decreased under COVID-19 social distancing restrictions.
The twin factors of civil unrest and the coronavirus pandemic have caused mixed feelings among the thousands of mainland students who have applied to study in Hong Kong in the 2020 academic year, which begins in September.
 Since June 2019, there have been multiple incidents of Mandarin speakers, from average tourists to a banker with JP Morgan, being cornered or punched by radical protesters.
With images of mainlanders being attacked by black-clad protesters in Hong Kong widely circulating on social media on the mainland, Yin is concerned about his safety in a city where polls show a record high hold negative feelings towards people from the mainland.
"Applying to study in Hong Kong was a Plan B," the 21-year old said. "But now because of the pandemic, I will choose Hong Kong."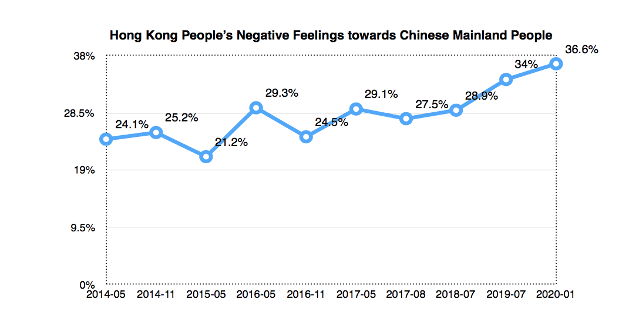 Data Source: Hong Kong Public Opinion Research Institute.
The protests were sparked by the now-withdrawn extradition bill initiated by the Hong Kong government that could see Hongkongers being sent to the mainland to face trial.
In September 2019, a mainland student who was considering furthering his studies in Hong Kong posted the following question on Zhihu, a Chinese question-and-answer website popular among young people: "Given the situation in 2019, is it still a good choice to apply for universities in Hong Kong?"
Users of the community have flooded the site with answers, with the most-approved ones advising not to go to Hong Kong. "Economically, you will be tied up; mentally, you're abusing yourself; and politically, you're defecting," one comment read. The page has been viewed 528,918 times.
The social unrest in Hong Kong last year has prompted many students to change their mind about coming to Hong Kong, said one consultant based in Luoyang, a city in central China, who only gives her surname as Chen. Consultants like Chen help students apply for universities outside the mainland
"One of my student clients even gave up an offer from the University of Hong Kong, and turned to apply for universities in the United Kingdom," she said.
Chen said so far, none of her clients had only applied to Hong Kong universities. All of them have also applied to universities in the United Kingdom or Australia.
The consultant also said that some mainland employers did not want to hire students who had studied in Hong Kong, citing potential political troubles.
However, for some mainland students, the social unrest and protests seem to have increased the appeal of the city's universities.
"Everyone knows Hong Kong's situation is unstable, so the number of mainland students applying to study in Hong Kong is sure to drop," said Zhu Xubin, who hopes to get a master's degree in either Hong Kong or the mainland. "That will help improve my chances of success."
The 24-year-old has got an offer from a postgraduate program in applied physics at the City University of Hong Kong.
Wang Jiating, 22, said she was satisfied with her offer, also from the City University.
"It's because of the social instability that it has become easier to apply in the fall of 2020," she said. "It feels like success that comes with danger."
But Wang is worried about barriers to her future employment on the Chinese mainland. "I hope I will not be treated differently when I am back," she said.
The unexpected coronavirus pandemic has added to the equation as well. With the outbreak still raging in the West, many students have turned their eyes back to Hong Kong.
In May, the city went weeks with no local infections. By contrast, according to the Johns Hopkins University, the United States recorded more than 22,000 new cases and the United Kingdom 3,985 on the same day in May.
Pan Yanping had planned to study in Australia. He said he did not want to study in Hong Kong because he said the city's unstable and divided political situation could not offer him a good studying and living experience. But with the pandemic, he changed his mind.
"Applying to study in Hong Kong was a plan b," the 21-year old said. "But now because of the pandemic, I will choose Hong Kong."
Chinahuaxia Education, another consultancy based in Beijing focusing on applications for degree programs in Hong Kong, reported fewer clients from September to November last year, without giving numbers. However, the agency made it clear that a large number of students now want to study in the city, though not without concerns.
"Students are worried about e-learning, about studies being disrupted, and what happened last year repeating itself this year," said one of its consultants, speaking on condition of anonymity.
Universities in Hong Kong were reduced to battlegrounds in early November last year when protesters occupied campuses amid violent stand-offs with riot police, causing class suspensions and a sudden exodus of mainland students and other non-local students.
In November, Hong Kong Baptist University, along with the other public universities in the Hong Kong, suspended face-to-face classes and moved teaching online. The School of Communication at Hong Kong Baptist University sent an email to its post-graduate students, saying, "You are advised to leave Hong Kong for Shenzhen, Guangzhou, Zhuhai, Macau or your hometown for a few days until further notice."
To hedge the risk of another political crisis in Hong Kong, Yin said he would not quit his job or pay the City University tuition fee until he was physically present in Hong Kong.
"You can study anywhere," Yin said. "Continuing to work is also an option for me."

Economically, you will be tied up; mentally, you're abusing yourself; and politically, you're defecting.


Applying to study in Hong Kong was a plan b, but now because of the pandemic, I will choose Hong Kong."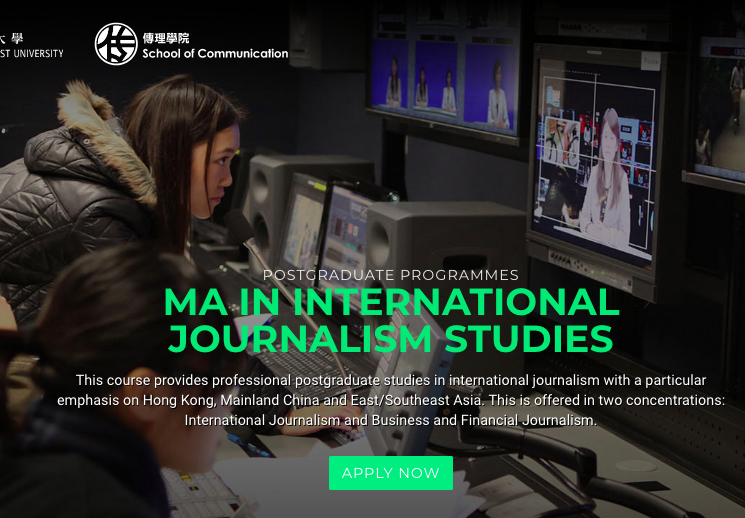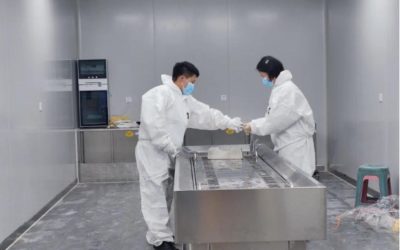 A young mortician in China provides "dignity for the dead and comfort to the living." By Yuan Xiaomai December 2022 Wu Cha (left) cleans a workbench with her colleague in Gucheng, Hubei province, July 2022. (Photo: Wu Cha) Wu Cha recalls being deeply shaken the first...
read more