Young Chinese Fear Marriage
China's marriage rate at record low as more young people, especially women, reject the institution
Liu Ziyi, 24, and her boyfriend planned to go to the Civil Affairs Bureau in China on May 1 to get married. They had met at a Christmas party five years in university. Even when they lived together, they rarely quarreled. Friends teased the couple that they still looked like they had just fallen in love. Their families also approved of the match. Liu was excited to say yes when her boyfriend proposed.
But as the day drew nearer, Liu felt more and more uneasy and anxious. "I began to fear that a lot of things would happen after marriage. Are we really ready to get married now?" Liu asked herself.
A week before the wedding, she sent a message to her boyfriend: "I feel like I can't register for marriage with you at the moment."
Liu is not alone. In China and throughout Asia, an increasing number of young people, especially women, are feeling fear and resistance to marriage.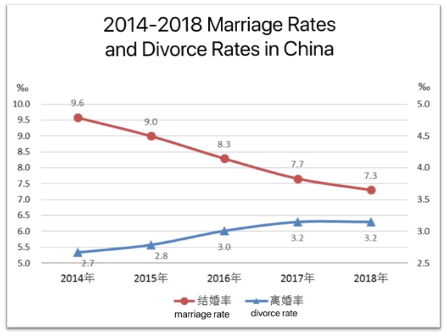 Source: Ministry of Civil Affairs
In China, the marriage rate is at a record low, according to statistics from the Ministry of Civil Affairs. And a 2016 survey by China Youth Daily reported that more than 60% of respondents said they were afraid of marriage.
"There are so many serious things to worry about. Paying for a house, having and raising a child, handling my job, supporting our parents and so on. I suddenly feel a lot of responsibilities and the pressure just overwhelms me," Liu said.
Liu said she feels upset because her boyfriend doesn't seem to understand her pain.  "I don't think he really realized the difference between being in love and getting married. I can't just walk into a marriage like this," Liu said and sighed.
Wang Qing, a counselor in Changsha, said that getting married means a person will face a huge change in life identity. Some people feel confused and anxious, and develop "pre-marriage anxieties," which springs from a sense of responsibility about forming a new family.
"It was reasonable and responsible to give careful consideration to marriage," said Wang. "Actually, their fear is rooted in the desire for marriage," she said.
Li Yang, 33, from Harbin, graduated from a top university in China and now works for a foreign company in Guangzhou. Li said the most common question she gets is "Why haven't you gotten married?"
"Marriage will only drag me down," she said.
Li said her life is full and happy. She is happy with her job, and in her spare time, she goes to the gym, does cosmetology and plays drums. On holidays, she travels with friends or alone.
"Marriage inevitably requires a lot of effort from both sides. But I still have a lot of goals to chase. I don't want to be tied down by family, husband or children," Li said.
More women are studying and working which creates financial and spiritual independence, said Sun Hao, a marriage and family counselor in Beijing.
China's female labor participation rate in 2018 was 60.9%, ranking second in Asia, according to the Asia-Pacific Economic Cooperation.
But despite the gains made by women, traditional values for women create pressure.  "It's still very unequal," Sun said.
Li said many of her married female friends rush to pick up children after work, cook, do housework and quarrel with their husband or mother-in-law every day. "These friends are the living signs telling me not to get married," she said.
Chloe Zhao, 20, said she will not get married young. "Marriage is really the tomb of love, and there is no permanent love in the world," Zhao said.
Zhao said she grew up in a family that quarreled and she often cried when her parents fought. When she was older, she said her parents just stopped talking. "The dead silence at dinner made me feel really pained," Zhao said.
"I've seen the worst part of marriage, and I will never step into the same trap," said Zhao.
While uncertainty about the choice of a life partner is considered normal, psychologists call an extreme fear of commitment "gamophobia".
Wang said that many people like Zhao are deeply influenced by their family background and lose confidence in marriage in their youth. Young people should face their true selves and find the exact source of pressure, she said.
Young people are still in the stage of self-exploration, Sun said, adding that when their value system has developed, they might think differently.
"Don't magnify the anxiety of marriage, and don't belittle the problems that may arise," Wang said.

Marriage will only drag me down.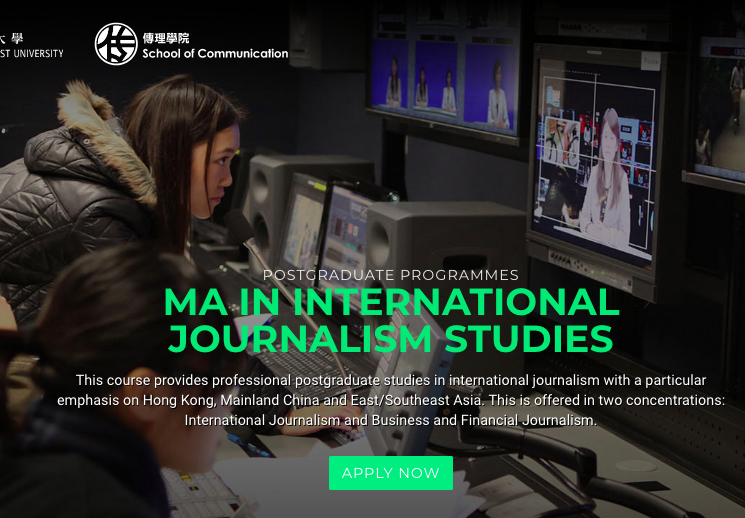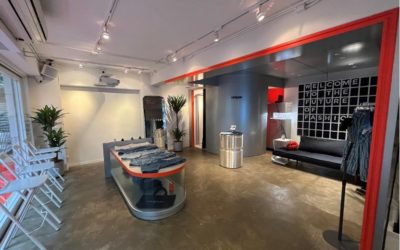 3D scan creates custom fit jeans to fight fashion wasteBy Zhang XianingDecember 2022Inside Unspun, only a few pairs of sample jeans are on display as part of their "no-inventory" philosophyInside a small booth, Guido Pietranera is stripped down to only his underwear...
read more