Innovative Jeans Brand Unspun Brings the Future to Life in Hong Kong
3D scan creates custom fit jeans to fight fashion waste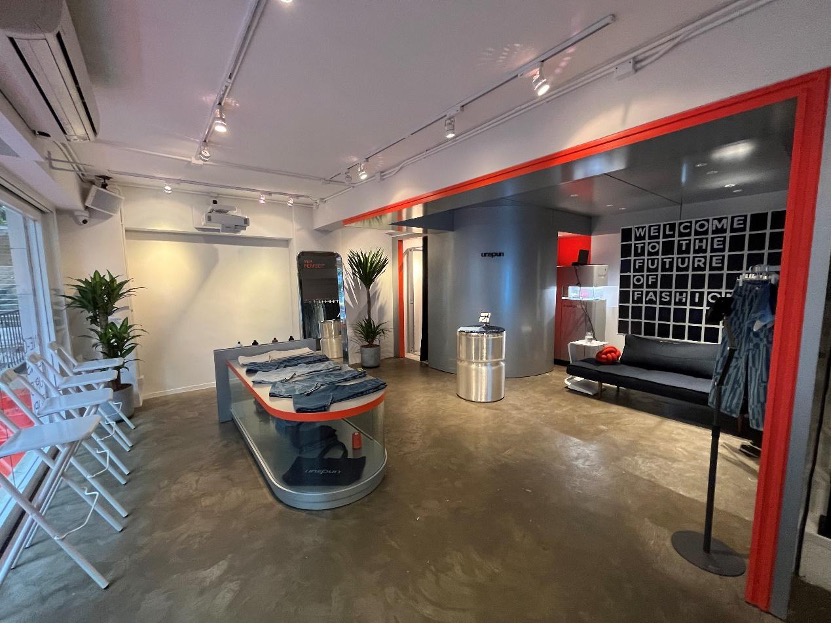 Inside Unspun, only a few pairs of sample jeans are on display as part of their "no-inventory" philosophy
Inside a small booth, Guido Pietranera is stripped down to only his underwear as he steps into a cubic frame with an iPad in front of him. 
"Are you sure about this?" he yells with uncertainty in his voice.
"Yes of course, you just have to follow the instructions," replies Altynai Tamerlanova, a saleswoman behind a curtained doorway nearby.
Pietranera looks back to the tablet as he stands nearly naked at the center of the metal framework. He taps "next" on the screen, then stands straight as he clenches his fists on both sides of his waist like the instructions on the tablet show him. Once he matches the illustrated position, the tablet sounds a tone and a gentle female voice from the iPad calmly says, "Thank you, please hold still."
Then there is silence as the four metal pillars of the frame shoot out 30,000 infrared lights onto Pietranera's body behind the dark glass.
Ten seconds later, the whole process is complete, and the tablet rings again.
"Thank you, your body has been scanned," the voice says as Pietranera steps out of the device, puts his clothes back on and walks out of the booth.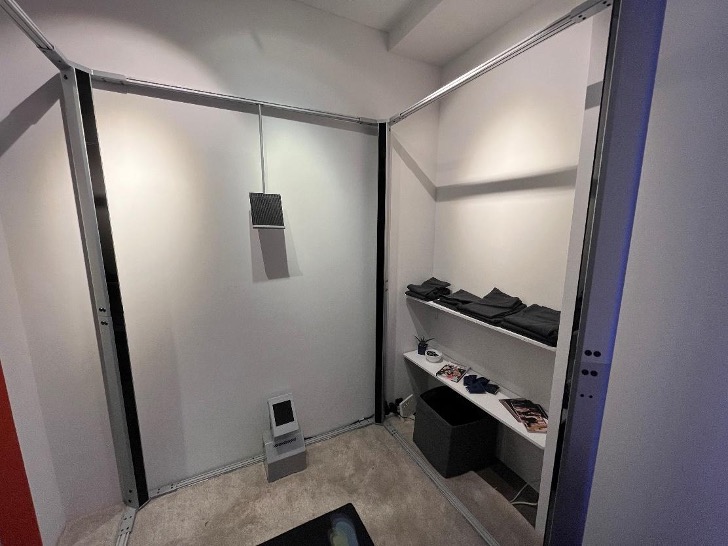 The 3D scanner inside the measuring booth uses 30,000 infrared lights to scan a person for a new pair of jeans.
What seems like a scene from a sci-fi movie, is actually a high-tech analysis that will help Pietranera get a new pair of jeans. In this dressing room, there is not a single stitch of fabric that needs to be tried on for size and fit. In three to four weeks, Guido will receive a new pair of pants that perfectly fits him, precisely tailored to his body.
The shop, called Unspun located in Hong Kong's Sheung Wan area, is an innovative brand that makes order-on-demand jeans by using high-end technologies and sustainable materials. 
Co-founded by Walden Lam in 2017, Unspun opened its first walk-in shop in Hong Kong on Nov. 18. But the futuristic fitting room is about more than ensuring a perfect fit, according to Annika Visser, brand lead at Unspun.
"We realize that something is wrong," she said, describing a growing awareness in the fashion industry. "It's wasteful because it's producing too many things."
The metal framed 3D scanner that projects infrared lights onto the body and draws a person's 3D avatar is provided by a Taiwanese company called TG3D, according to Visser. She said Unspun uses the scanned data points to calculate the most precise measurements through their own algorithm.
"We can then make every single part of the jeans customized," she said. "And that's where we can create garments that are truly custom fit."
Despite there only being one scanner in the store, Unspun's business is not limited to those who physically visit. The company has also developed a customer base and building operations around the globe.
Unspun has also developed an app that can run 3D body scans on a customer who is using an iPhone, using technology similar to what allows smartphones to process Face ID.
"We have two production sites in Turkey and China," Visser said, "so that we could ship our jeans to customers around the world."
Advanced technology also helps Unspun make their jeans production more environmentally friendly. "We are minimizing the waste from the general industry," Visser said.
The fashion industry contributes 10% of global carbon dioxide output, according to the United Nations Environment Program, including unsold inventory from mass production, massive offcuts from cutting fabrics and defective or throw-out clothes sent to landfills.
Unspun aims to reduce the carbon emission in the fashion industry by 1%.
"We don't have unsold inventory whatsoever because we make only one of one jeans for each customer," Visser said, explaining the idea of the order-on-demand garment.
"They are made for you," Visser said while showing the tags attached inside the jeans. "Actually inside they have the name of the customer printed."
"It was easy and faster than I thought," Pietranera said. "I wanted to get some long-lasting good fitting jeans. The fact that their mission is to reduce carbon is just an added bonus."
Unspun also targets the full circular recycling of its products in future returns. "Every thread of the fabric is dissolvable, including stitches," Visser said. "Our buttons are removable, and zippers will fall off from the dissolved pants to recycle.
Unspun still uses lasers to cut out fabric, which will be sewn by factory workers in making jeans. But in the future, it hopes to use a more advanced weaving method.
In 2021, Unspun won Time magazine's best inventions of 2021 for its 3D weaving machine.
"It's going to skip completely the part that you have flapped fabric and you need to cut around the fabric," Visser said. "It's actually the yarn that go into the pants that will become the product."
And by the time a customer wants to return the jeans or recycle them, the machine is able to unweave the entire garment back to dissolvable threads.
"Therefore, zero-waste production," she said.
Unspun's bespoke jeans are not cheap. Though they are considered environmentally less damaging, the price for one pair is as high as US$200.
For Unspun customer Pietranera, precise fit and quality are factors that make the relatively high price bearable.
"It's a bit steep," he admitted, "but considering these jeans will last me a long time, I am happy to pay a bit more."
In the future, the Unspun cofounder Walden Lam is aiming to expand their idea across the fast fashion industry to collectively reduce carbon emissions.
"It's a big hairy goal," he said, "but we really want to inspire this method."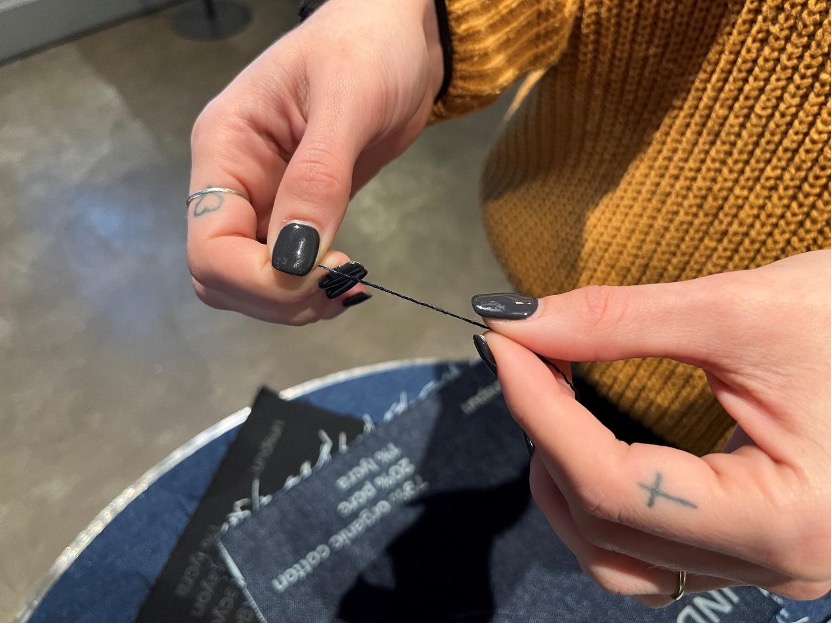 "Every thread of the fabric is dissolvable, including stitches," says Annika Visser, brand lead at Unspun.

We are minimizing the waste from the general industry.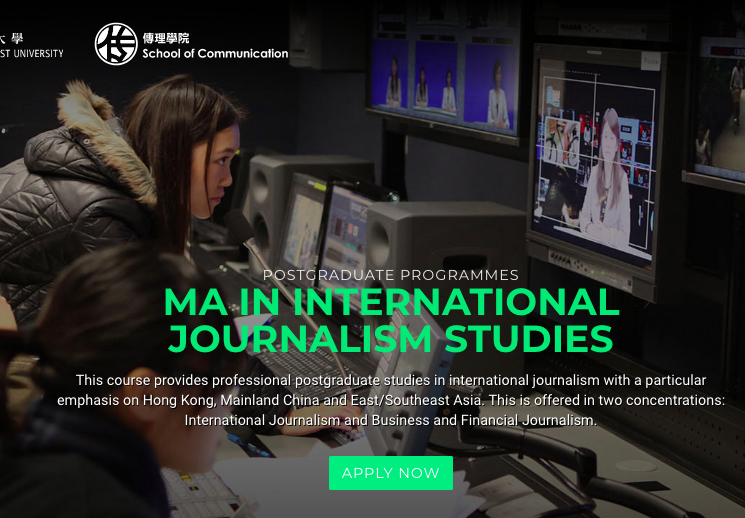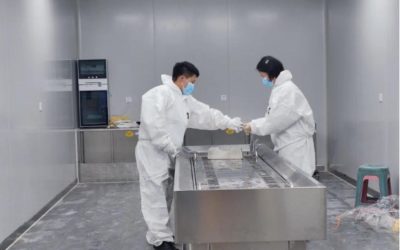 A young mortician in China provides "dignity for the dead and comfort to the living." By Yuan Xiaomai December 2022 Wu Cha (left) cleans a workbench with her colleague in Gucheng, Hubei province, July 2022. (Photo: Wu Cha) Wu Cha recalls being deeply shaken the first...
read more