Coronavirus took my grandpa away and then brought him back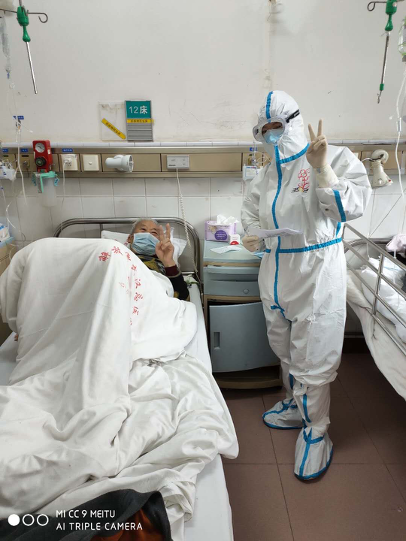 My grandpa waves to the camera in the Wuhan General Hospital of Guangzhou Military of PLA.
My grandpa, whom I call "Lau Ye" in Chinese, is 78. He grows vegetables and fruit in the garden and rides an electric vehicle to deliver handmade Chinese dumplings to his grandchildren. This man is 5 feet 10 inches tall. His hair has turned snow white but stays neatly combed. Smile lines have sunken his face, and his puffy eyes barely open but still look bright.
My family has lived in Wuhan for decades. Where I grew up is the epicenter of the global coronavirus pandemic. I am now in Hong Kong, 919 km away from my Lao Ye, who tested positive for COVID-19.
I was supposed to go home to celebrate the Lunar New Year. The holiday is one of our family's happiest moments throughout the whole year. My mother prepares various dishes to celebrate and greet relatives. I play mahjong and poker with my grandparents and cousins. We share interesting experiences, enjoy the scrumptious Chinese food and watch the Spring Festival Gala together.
But the coronavirus broke our yearly family reunion. Zhong Nanshan, the famous pulmonologist who fought against the SARS outbreak, confirmed human-to-human transmission of COVID-19 on January 20.
Wuhan is five hours away by high-speed train or two hours by airplane. But I could not visit him because all of the routes were canceled. It was the first time I spent the Lunar New Year holiday without my family.
Every day I had a video call with my parents and asked them about the situation in Wuhan through WeChat, a social media and messaging app in China. Everything seemed to be normal until I heard from my cousin that Lau Ye had a fever for more than a week. A fever is one of the common symptoms of COVID-19.
It was Jan. 30. when over 1,000 new cases of COVID-19 in Hubei province were confirmed, including 356 cases in Wuhan. Total figures for infections in China jumped to 8,254, the number of cases exceeding the SARS outbreak. On the same day, Director-General Dr. Tedros Ashanom Ghebreyesus of the World Health Organization declared the coronavirus outbreak a Public Health Emergency of International Concern.
Before I was told my grandfather had worrying symptoms of COVID-19, my mother looked just fine during our video calls. Maybe, she pretended to be, for my sake.
I called my mom once I got the news., "Does Lau Ye have a fever? Why haven't you told me?" I said with a choked voice.
There was dead air. She turned the phone up, and I only saw the room's white ceiling.
The silence stayed for a few more seconds, but it felt like a century had passed. My mom wailed loudly as if she had not been allowed to release the mounting pressure, but now, she was able to breathe.
"I just don't want one more person to worry," she said. "Especially since you are in Hong Kong, and you can do nothing,"
She wiped her tears. I could see dark circles around her eyes, under the bright sunlight.
On Jan. 22, the South China Morning Post reported that a former World Health Organization official on communicable diseases said the virus was not deadly at present. But for patients with existing medical conditions, such as elderly people, the virus can be lethal. China's Center for Disease Control and Prevention also said the same in a press briefing on Jan. 29.
My Lau Ye has diabetes.
According to WHO and Chinese authorities, the death rate was 2.07% at the end of January, 7% lower than SARS. Lady Death seemed far away from our family., But as long as people died from COVID-19, we would fear her knocking on our door, holding my Lau Ye's hands and taking him away.
Memories rushed through my head. Lau Ye used to be in the People's Liberation Army. He made jokes and never lost his temper with his grandchildren. He would prepare and learn how to make my favorite dishes every time I visited him: crispy fried chicken, spicy and shredded potato and lamb hotpot. While we were having meals, he would turn on the television and watch NBA matches with me. His favorite player is Kobe Bryant; mine is LeBron James.
I finally saw someone through the video. He laid on the bed, gripped a napkin, and wiped his sweat. His face was drunkenly red. His eyes were half-closed, not because he smiled, but because he struggled.
Who was the man in that bed? He didn't look like my Lau Ye anymore.
"Don't worry, I am fine and you must take care in Hong Kong," he said in a clear but weak voice. He kept wiping his forehead and face, to cover up his tears, "I am okay. It is just the common flu." After I hung up, I was distressed. Why did unfortunate things happen to my family, to my kind Lau Ye?
Hospitals in Wuhan were packed, yet they lacked medical supplies for the entry of patients. To diagnose and test for COVID-19, you had to stand in a queue for more than three hours, putting yourself at a higher risk of infection. A video spread on social media showed how bad it was in Wuhan: a woman, who was waiting indefinitely, pleaded desperately to a doctor who whisked away a patient suspected to have coronavirus for testing. She was sobbing and screaming, "Doctors, I also have a fever, please, help me!"
I lived in a dormitory alone. My roommate had returned to mainland China during the Lunar New Year. The sun was bright; the wind was strong. There were plenty of reasons to relax, but I could not. My brain kept thinking about the news. Families were getting infected in the blink of an eye.
"I wish I were in Wuhan, so I could help in some way," I told my mother.
"No, luckily you are in Hong Kong, otherwise if you go home, I will be afraid of touching you and spreading the virus to you," she said. Before Lau Ye was tested, my grandmother, parents, and uncle took care of him in turn, exposing themselves to the high risk of being infected, waiting for the arrangement of testing and more beds.
Enough beds and tests were provided once Fangcang shelter hospital and Leishenshan hospital were completed. Healthcare workers from other cities and medical equipment were dispatched to Wuhan. Fangcang shelter hospital is a temporary hospital built on stadiums or exhibition centers for accepting mild to moderate patients of COVID-19, providing medical treatment, food, and social activities. Leishenshan Hospital, also built for coping with the hospital bed shortage, received patients in serious condition.
My grandpa was finally arranged to do the test and a CT scan after the shortage eased. The test turned out positive for COVID-19 with mild symptoms of pneumonia.
Actually, we sighed in relief. At least we knew what disease grandpa had, and now he could be sent to the hospital for professional treatment. I had taught grandpa how to use a smartphone. He learned the basics, like making WeChat video calls. Every morning, my mother would call him and inquire about his condition. She would then share the message on our group chat.
Almost every night, our family group chat had a video meeting, and Lau Ye sometimes wept, "You guys should take good care of yourselves," Lau Ye told us. "I am really worried about you, I am afraid of burdening the family," But we all just told him "Get better soon, don't worry about us and everything will be okay."
During the treatment in the hospital, Lau Ye's face was becoming a lighter shade of red. We could no longer see him sweating. He also showed us his meals, and his smile was coming back.
After 14 days of treatment, Lau Ye took the test again. He finally tested negative for COVID-19. On Feb. 28, 2,885 new cases were discharged, and 288 severe cases were reduced, according to the National Health Commission. My Lau Ye was one of them.
One month later, my parents took Lau Ye fishing. He cast the fishing rod, and the line swung ten meters away from the shore, making a loud splash. "I walked with  Lady Death so closely, but she did not want me," Lau Ye said and smiled.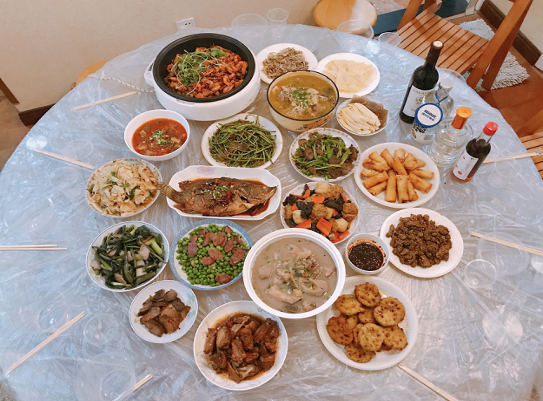 These are dishes cooked by my mother for Lunar New Year 2019.

I walked with Lady Death so closely, but she did not want me.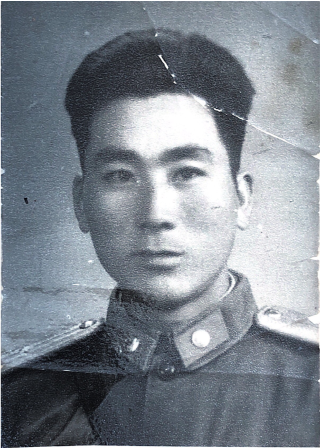 My grandfather when he was in the PLA.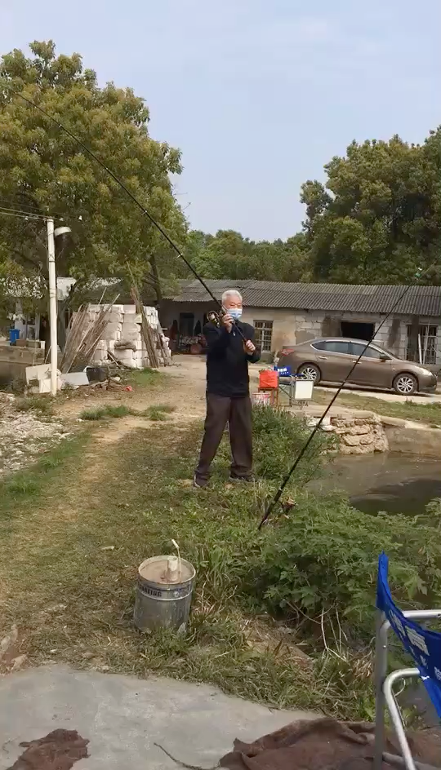 My grandfather casts his fishing rod after being discharged from the hospital.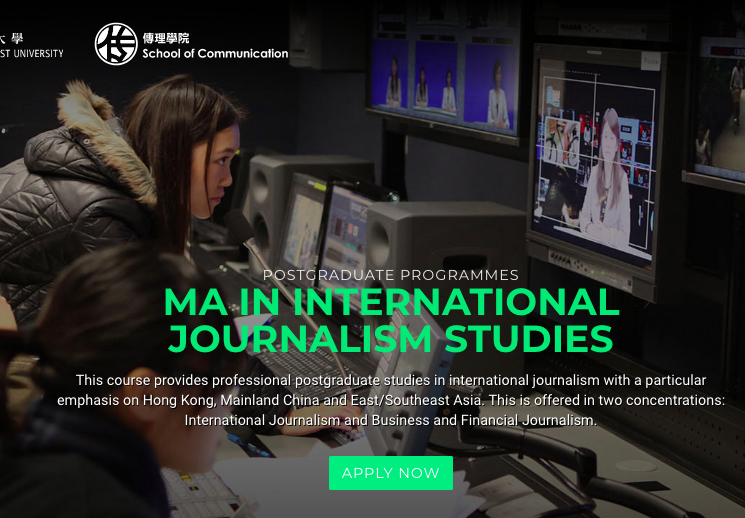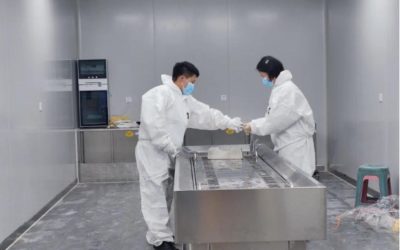 A young mortician in China provides "dignity for the dead and comfort to the living." By Yuan Xiaomai December 2022 Wu Cha (left) cleans a workbench with her colleague in Gucheng, Hubei province, July 2022. (Photo: Wu Cha) Wu Cha recalls being deeply shaken the first...
read more