China's WeChat counterfeit market thrives online
Small business owners advertise 'single original' luxury items smuggled from factories but many fake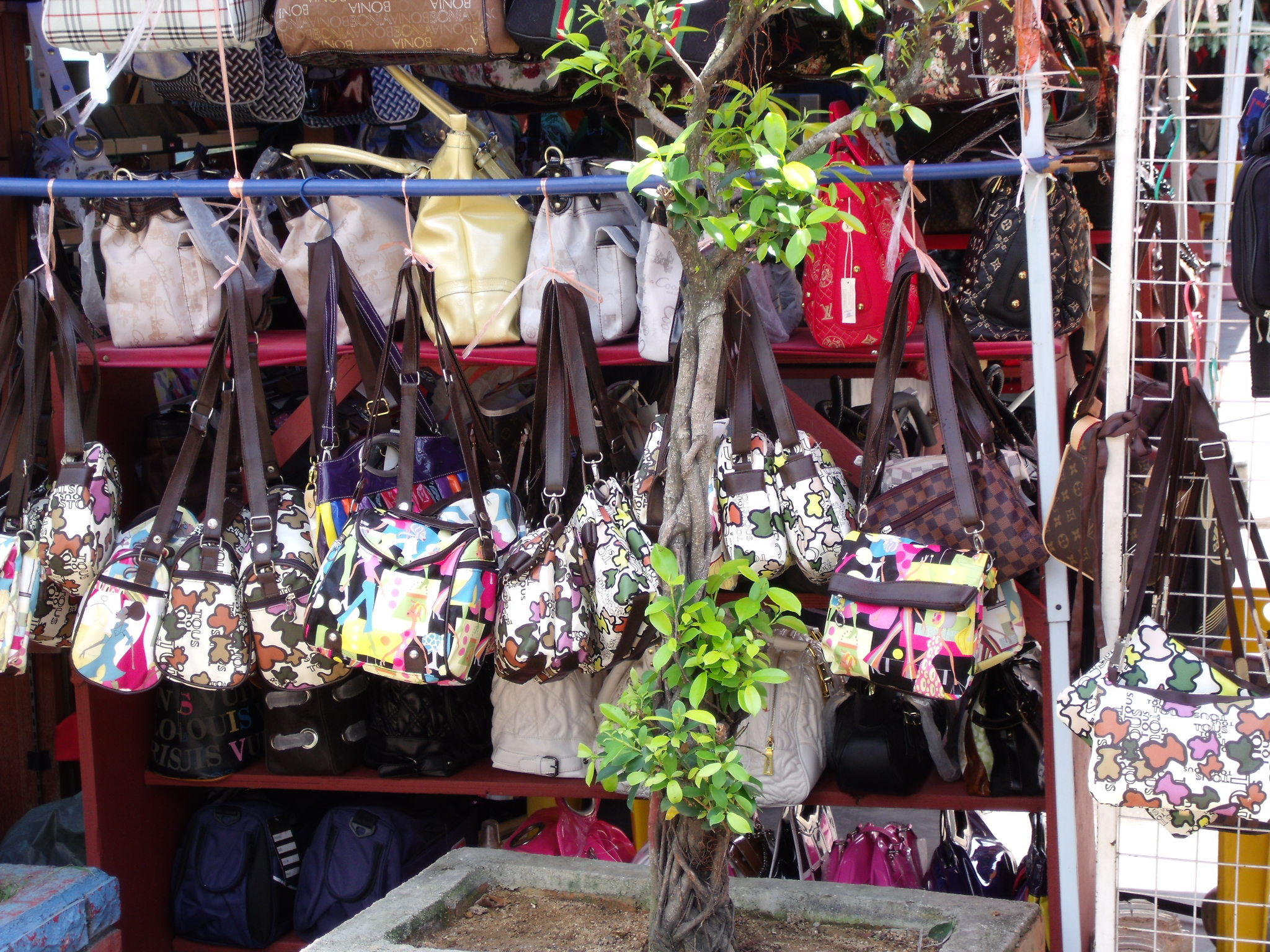 Bags hang for sale in an outdoor market in Shenzhen.
0In the cool, rainy hours of an early spring morning, Huang Xiaomei holds her 3-month-old son and waits for her husband to fill the trunk of their car with food from their hometown in Hunan province. Most are vegetables grown by her father; the rest homemade delicacies that are hard to buy where Huang lives in Dongguan, a large manufacturing city in the Pearl River Delta.
Huang takes four photos of the full trunk and immediately posts them on WeChat. She writes that there is a kind of love of parents' homemade food that cures homesickness. Then she adds another sentence: "My online shop is going to re-open for business on February 27."
Huang soon receives many responses from her online customers, excited about her new products after Lunar New Year. They cannot wait to buy shoes or bags to have a new look in the new year. Some have already consulted Huang about their desired style.
Huang's online shop is based on WeChat, where she posts photos and information in her Moment. Her WeChat friends, who are her customers, privately chat with her and discuss the price. They can also place orders and pay through WeChat Pay or Alipay. The money goes directly to Huang's private account.
She sells nearly everything, including cookers, bedding, watches and sunglasses. But the majority of her sales are luxury bags and shoes. Huang has had her WeChat business for five years and she earns about RMB 60,000 (HK$ 74,835) per month, enough for her family to live on in a second-tier city like Dongguan, she says.
Going to Hunan to spend the Chinese New Year holiday is an annual event for Huang's family. It's a hard-won time for Huang to have a rest, escaping from her busy business. She closes her online shop for around two weeks.
On her way home to Dongguan, Huang carefully replies to each message, taking notes on products her customers mention and reminding her suppliers to prepare the goods. Her husband, two sons and her mother are with her. Her father stayed home alone. When she reopens, her business will be so busy that she and her husband will have no time to take care of their two children so their grandmother is needed.
Huang advertises international luxury brands at around 70% the retail price. She describes the discounted items as "single original," meaning the products are excess inventory with defects. They supposedly come directly from the local manufacturing factory and have the same quality as those made by the brands overseas.
If this is true, then it is illegal to sell them. According to a worker at a Dongguan shoe factory, who asked to be anonymous, some employees at the licensed factories will sneak out excess inventory out and sell them cheaply on the market. He said that this was the source of "single original." Sometimes they even chuck shoes over the factory wall, he said. "I have one brought some out," the worker said.
The history of "single original" goes back to the late 1980s, the decades of China's reform and opening-up, when international companies from all industries started outsourcing their production to factories in developing countries. Labor-intensive industries such as shoe manufacturing tended to cluster in the coastal provinces such as Fujian, Zhejiang, and Guangdong.
With enhanced security measures at the factories, including more guards, cameras and second outer walls, stealing excess inventory from factories has become harder and harder. The factory worker also said that the brands will precisely control the number of orders to avoid excess inventory. "There's nearly no way to get single original anymore," he said.
However, the sales volume of the so-called single original is growing. Often these products are counterfeit. When Huang moved to Dongguan in the mid-1990s, she said it was at that time a new brand of factory emerged, specializing in fakes, and began copying authentic Nike, Adidas and Puma shoes.
Some "single original" products, Huang says, are made with the same material, copying the official design of the brand. She said that nowadays, nearly all commodities with the tag of "single original" in online shops or wholesale market are counterfeit.
"My single originals are also counterfeit," Huang said, "but I will tell my customers they are real."
One trick WeChat business people like Huang use is to advertise that all goods can be authenticated by the brand store.
Zhang Jie is a WeChat businesswoman selling fake luxury bags, including Louis Vuitton and Chanel in Liaoxia village, Dongguan. She says the bags she sells are bought from the official stores in Hong Kong and that she can provide certification.
Zhang displays a black Chanel sheepskin handbag with an certificate saying the bag was bought from the Chanel store in the Prince's Building in Central, Hong Kong for HK$ 49,640 (RMB 39,800). Zhang sells it after discount for RMB 1,900 (HK$ 2,369).
I called the Chanel mainland customer service hotline but was told they do not confirm if bags are genuine. They recommended I go to the Chanel store in the Prince's Building. So I did. The salesclerk said that the same handbag in the shop sold for HK$ 34,000 (RMB 27,232) but that the store did not provide certificates nor would they verify authenticity.
Winnie Lau, a salesclerk at the Chanel store in the Prince's Building, said, "We can guarantee that the items we sell are genuine, but we do not authenticate customers' products." The official websites of luxuries such as Chanel, Dior and Louis Vuitton also do not provide any channels for authenticating.
Qin Shiyu, an official at the Quality and Technical Supervision Bureau of Dongguan, said that they look at the physical characteristics of the bags, such as stretchability, in order to determine whether it meets the standards.
"I have never authenticated my luxury bags bought online," Liang Jingjing, an office worker in Guangzhou, said. "If my bag is said to be fake in the store, I will lose face."
"The luxury items we sell are high-end counterfeits but the price is so cheap. How can we possibly get genuine goods?" said Huang.
According to Huang and Zhang, though many online shops say luxury stores provide inspections, they know that the stores will refuse to provide such services.
Huang has been in the Pearl River Delta district for more than 10 years. She first worked as a clerk at foreign trade corporations in Shenzhen for several years; gradually, she became familiar with the producing and selling of foreign trade commodities, building up her own sources of foreign shoes and bags. After Huang got married, she opened a Taobao online shoe shop with her husband, selling the so-called single original counterfeits.
But counterfeit businesses on Taobao have became harder since 2014, the year Alibaba launched a campaign to stop counterfeits. According to Xinhua Net, from September 2015 to August 2016, relying on Alibaba big data platforms, law enforcement agencies have closed down about 675 factories and shops producing and selling fakes.
"The majority of counterfeiters are not held legally responsible for their actions," wrote Alibaba chairman Jack Ma in a statement to China's parliamentary delegates. On March 8, 2017, Alibaba released a statement saying it was "suing a Taobao merchant suspected of selling counterfeit Mars pet food for RMB 2.67 million for violation of contract and goodwill." Alibaba said it was asking the court "to compel the defendant to publish a written apology in several prominent print and web publications for a week."
"Taobao has stricter regulations on counterfeits, but WeChat doesn't yet," Huang said.
Han Ying is Huang's neighbor and previously owned a physical store in a wholesale market in Liaoxia village, Dongguan and an online Taobao shop, selling fake shoes. But as the crackdown of counterfeits by government and Alibaba, Han closed both her offline and Taobao businesses and concentrated on selling shoes on WeChat.
WeChat business people like Huang and Han act as middlemen with no need for a physical store or warehouse. They simply post photos of sample commodities or a picture of the original goods on their WeChat account. After they get an order, they go to their supplier and then mail products to customers. This saves them having to keep unsold goods in stock.
WeChat makes it easier for shop owners to conceal their identity, but it might be also easier for police to track lawbreakers online once they decide to focus on a store.
According to the official website of the Dongguan government, Qin, a WeChat businesswoman was accused of selling counterfeits in her WeChat Moment on December 9, 2015. The prosecutor said "since April 2015, Qin, the defendant, using WeChat sold fake Nike, Adidas, new balance fake sports shoes … … as in the same year in July, Qin sold about 6,000 pairs shoes, the total sales amount are about RMB 300,000 (HK$ 374,549)."
Han also knows some WeChat business people who have been checked by the police before and their receipts and credit history were cited as evidence of their crime. Now online shops avoid using credit cards or providing receipts. When selling online, they use others' bank accounts to cover up their involvement.
Although Huang knows the risk of running a counterfeit business, she said she has to raise her family. A newborn baby has increased the family's financial burden, she says.
Huang finally arrives home at 3 a.m, and the wholesale fake markets near her home is in full swing. They run all ight and close in the day in order to avoid government inspection. Tens of thousands of fake shoes have been produced and sold in Dongguan townships like Liaoxia, Houjie, and Wanjiang. But local residents don't seem to mind. A woman who asked to be anonymous said she often buys shoes in Houjie said is quite satisfied with the items, which she says are of relatively high quality and, most importantly, cheap.
As long as there is demand, there will be supply. "The scale of the online counterfeits industry is incredible now. Some people have been arrested. But still many persist," Huang said. "People nearly all know the goods are fake but are willing to buy them regardless. They are in great demand."
"I know this business will not last forever, but I need to catch the business wave nowadays to accumulate more assets for my two sons," Huang said, turning back to her phone to reply to customers.

I have never authenticated my luxury bags bought online. If my bag is said to be fake in the store, I will lose face.


My single originals are also counterfeit, but I will tell my customers they are real.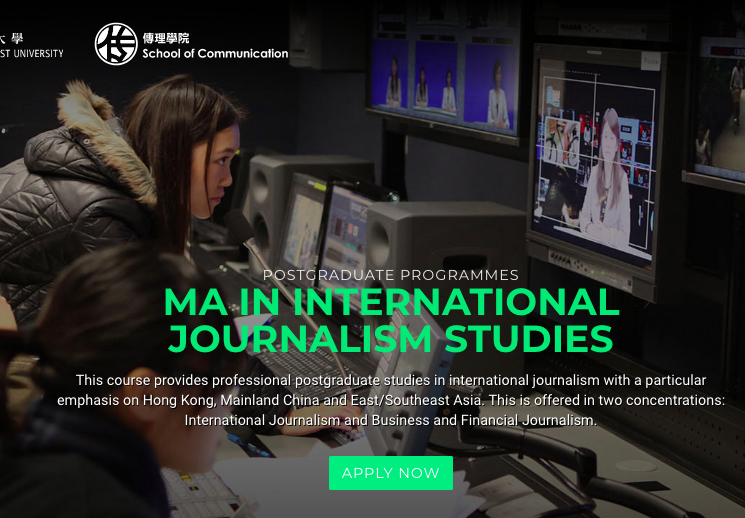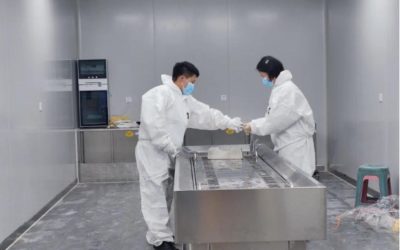 A young mortician in China provides "dignity for the dead and comfort to the living." By Yuan Xiaomai December 2022 Wu Cha (left) cleans a workbench with her colleague in Gucheng, Hubei province, July 2022. (Photo: Wu Cha) Wu Cha recalls being deeply shaken the first...
read more